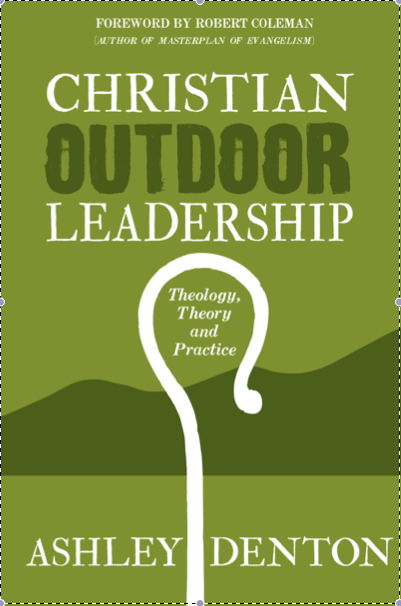 Outdoor leadership professor publishes a first of a kind Christian book on outdoor recreation and wilderness theology:
Christian Outdoor Leadership: Theology, Theory, and Practice by Ashley Denton, D.Min., offers a relevant and innovative approach to leadership development, evangelism, discipleship, and spiritual formation through outdoor adventure…
FORT COLLINS, Colo. – Ashley Denton's book on Christian Outdoor Leadership is the first of its kind. People are hungry for a more experiential approach to learning.  While most people yearn to be freed from the chaotic pace of modern life, their busy lives do not make this possible.  Written for outdoor enthusiasts and students of outdoor leadership, Ashley Denton's, "Christian Outdoor Leadership: Theology, Theory, and Practice" (ISBN 0615413250) offers a much needed resource on how to use time in the wilderness and backcountry adventure camping for leadership development, evangelism, discipleship, and spiritual formation.
LISTEN WHAT OTHER OUTDOOR LEADERSHIP PRACTITIONERS ARE SAYING ABOUT THE BOOK:
For many of us who are involved in leading wilderness expeditions, this book fills a long-standing gap in the literature of our field by providing a Scriptural basis for the significance of the wilderness environment as a ministry platform. In this, Ashley Denton has given us a great gift.
–AMY SMALLWOOD
Assistant Professor of Outdoor Leadership, Simpson University
President, Christian Adventure Association
Christian Outdoor Leadership: Theology, Theory, and Practice is the first comprehensive Christian text on outdoor leadership. It should be required reading in every college and university that seeks to prepare outdoor leaders. Denton's book steps in to fill the vacuum of Christian literature on outdoor leadership. It will likely be a cornerstone for years to come. Denton's sound theology mobilizes and motivates as he writes in a well-organized, crisp, and conversational style. This is a seminal book.
–JIM DOENGES, Assistant Program Manager, Solid Rock Outdoor Ministries
Ashley Denton carefully builds a prominent cairn for practitioners in the field of Christian outdoor leadership and wilderness ministry by expertly pointing new and experienced adventure ministers to the ancient model of how Jesus used the wilderness for outreach and discipleship. This book is refreshing and impressive.
–MATT ISMERT
Director, Young Life's Wilderness Ranch
LISTEN WHAT OTHER CHRISTIAN LEADERS ARE SAYING ABOUT THE BOOK:
In Christian Outdoor Leadership, Ashley Denton achieves a coup d'etat by surprising even seasoned readers of the New Testament about how much of Jesus' teaching and discipleship takes place outdoors. We all have seen the amazing results of organizations like Outward Bound, but Denton takes it a step further by demonstrating the theological basis for outdoor ministry and mentoring. If you are looking for an alternative to the inwardly focused, self-referential spiral of today's hedonistic spirituality, then go no farther. Christian Outdoor Leadership calls an 'inward' and 'indoor' generation back out into the great outdoors—and reminds us that this is God's world and it is still his favorite workshop!
–TIMOTHY C. TENNENT, Ph.D., Author, Christianity at the Religious Roundtable, President and Professor of World Christianity, Asbury Theological Seminary
Ashley Denton knows Jesus, theology, the wilderness, and young people. In Christian Outdoor Leadership he artfully and powerfully ties the ropes of his knowledge into a knot that can bear the weight of outdoor ministry in any culture. More importantly, however, Ashley's love for God, his adoring wonder of creation, and his passion for young people make this sturdy book a reliable and authentic field guide for anyone who aspires to spiritual leadership. Read it and be equipped to thrive, no matter the wilderness in which you find yourself.
–HOWARD BAKER, Author, The One True Thing,
Instructor of Spiritual Formation, Denver Theological Seminary
The book is available on Amazon.com starting January 1, 2011!
You can view the book's website for a sneak peek at: www.outdoorleaders.com

Also the book has a facebook page at: Christian Outdoor Leadership